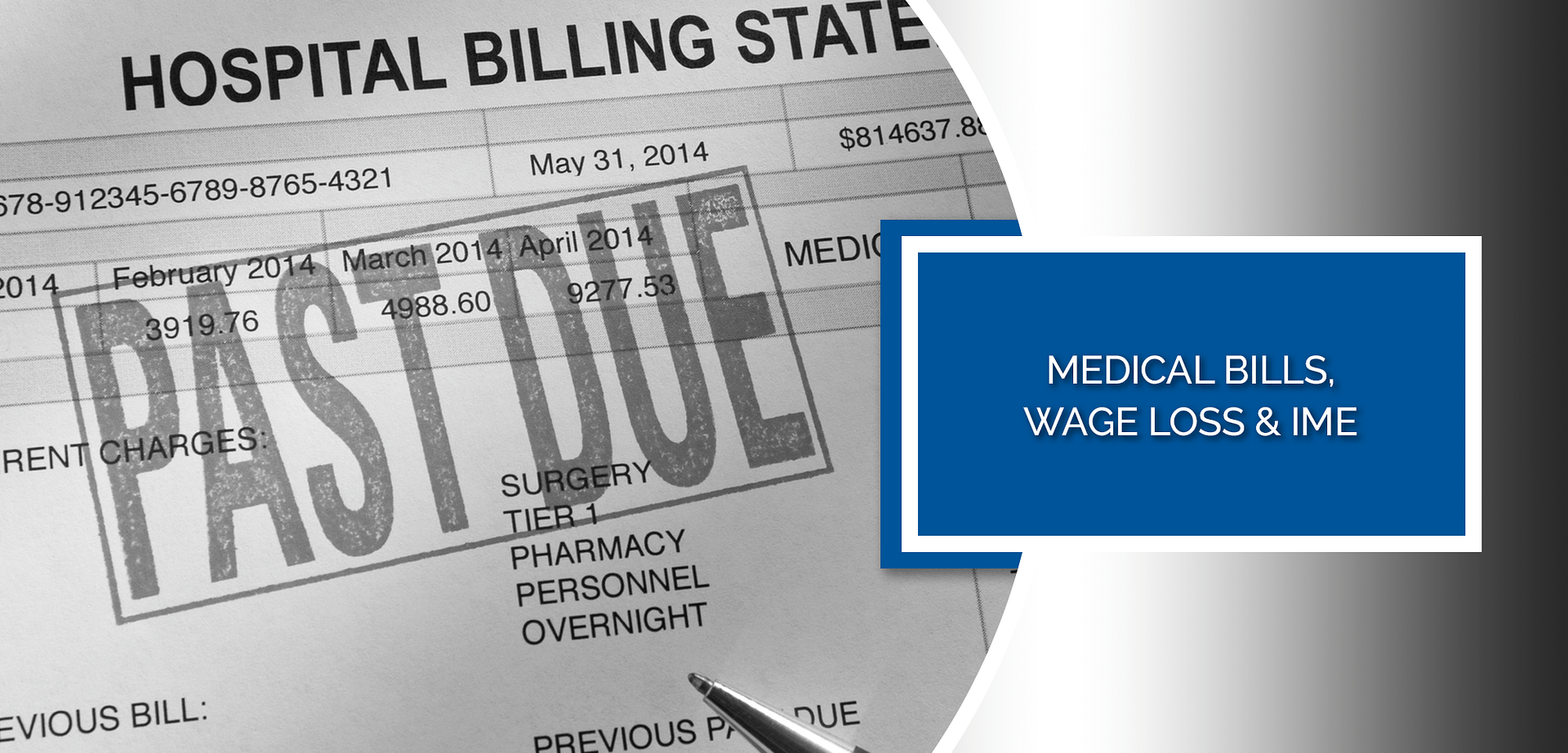 Medical treatment is not inexpensive. Even if you have health insurance, between deductibles and co-pays, medical care can be financially out of reach for many.
One of the biggest mistakes is not getting the medical treatment you need. Because not everyone knows about PIP, they may not get the medical treatment they need.
The good news is that PIP will pay for both the medical treatment you need, and may pay your wage loss — if you provider takes you off work.
1. How are my medical bills paid and what is Personal Injury Protection (PIP)?
A. What is PIP?
If you are injured in a car accident, you have the right to receive medical care, and also to receive time loss or other benefits if you can't work or manage your household tasks. These benefits are paid by the PIP part of the auto insurance company for the car you were in when the accident happened. 
PIP is a part of every private passenger policy sold in the state of Oregon   It is commonly referred to as "PIP."
B. What are the basic PIP benefits?
Following are the minimum benefits required under Oregon law. You can purchase PIP coverage with greater benefits. Ask your insurance agent about the extent of your coverage.
All medical expenses incurred for two years after the date of injury, up to a maximum of $15,000. The medical bills must be reasonable in amount and related to your injury from the accident.

Wage loss benefits of $3,000 a month or 70% of the average monthly income, whichever is less. You must be "usually engaged in paid work." You must be off work for at least 14 consecutive days.

If you do not "usually" work, you can receive up to $30 per day for "essential services." This benefit applies if your  medical provider states in writing that you require assistance with household work. This, like wage loss benefits, can continue for an aggregate of 52 weeks.

If you are a parent of a minor and you are hospitalized for at least 24 hours, child care benefits can be claimed up to $15 a day, with a maximum of $450.

Reasonable and necessary funeral expenses incurred as a result of the accident, within one year of the accident. The minimum coverage required by law is $5000.
C. My doctor says I should not work. How will I pay my bills?
PIP benefits include compensation for income you lose if your injuries prevent you from working. This applies whether you are an employee or self-employed.
The minimum PIP benefit for lost income is 70 percent of your gross wages or $3,000 per month, whichever is less, for 52 total weeks. 
You must be off work for at least 14 days before you are entitled to PIP wage loss benefits, but your benefits will then be effective from day one.  The insurance company will want your employer to verify your lost income and need an off work note from your medical provider. 
D. How will my medical bills be paid?
Basically, all automobile insurance policies provide personal injury protection (PIP) benefits. PIP pays all of your medical bills from the auto collision. You are entitled to PIP benefits regardless of who was at fault in the accident.
The insurance company will pay for the medical care necessary to treat your injuries. Most PIP policies limit your medical benefits to two years after your injury and a total of $15,000. So all of your medical bills up to $15,000 and within two years after the collision are covered.
If you were in a car that did not have insurance, or if the PIP has been exhausted, don't lose hope. There may be other car insurance that will pay your medical bills.
2. How is my wage loss paid if I've been injured in a car accident?
As outlined above, you are entitled to wage loss benefits through PIP up to $3,000 a month or 70% of the average monthly income, whichever is less. You must be off work for at least 14 consecutive days. A medical provider must have written an off work note.
It is generally easier to establish your wage loss if you are an employee. If you are self employed, you are still entitled to wage loss benefits. There is typically substantially more documentation to prove your average monthly income.
3. Can I see the medical providers of my choice following a car accident?
Absolutely. We will work closely with the medical providers you see for your injuries. If they have any questions or concerns, we are more than happy to answer them and provide any needed advice.
We work with medical doctors, chiropractors, naturopaths, acupuncturist, massage therapist and physical therapist.
The better the communication with your providers, the better your recovery and claim will go.
4. What is an Independent Medical Exam (IME)?
An IME is an Independent Medical Exam. It is an exam set up by the insurance company.
Th insurance company will refer to the exam as an "independent" medical exam, but there is nothing independent about it. The exam is requested by insurance companies to look for reasons to deny your claim. The IME doctor is chosen by the insurance company. The exam is not part of your medical treatment. Ninety percent of all IME reports cut off the injured person from treatment paid by PIP.
While many states have some form of personal injury protection, the information here applies to Oregon law, especially on how a lawyer can help force your PIP carrier to pay your medical expenses and wage loss.
5. Why am I being sent for an Independent Medical Exam (IME)?
An independent medical exam is used by the insurance company to stop paying your medical bills and wage loss. The doctor is not there to treat you or to help you get better. The IME doctor will likely report that you do not need any additional treatment, or that the treatment is not related to your collision.
Possible reasons why the insurance company is sending you to an IME:
There was not much visible damage done to the car you were in.
Insurance perspective: If the car doesn't appear to be badly damaged, any injuries you have must be minimal.
Reality:  People can be severely injured in traffic accidents even if there is little or no damage to the vehicles.  For example, if your head or body is turned at the time of impact, you're in a more vulnerable position. Also, some people are more fragile than others.  Some people walk away from a violent crash in which the cars are destroyed, while other people can be injured when there is no car damage at all.
You have prior similar injuries or treatment.
Insurance perspective:  If you had a similar problem in the past, your current injury must be caused by that.
Reality:  Just because you may have had an injury before the collision does not mean you can't be injured again. Oftentimes people injure certain body parts more than once over the course of a lifetime. A sprained neck in the past doesn't mean it's impossible to have another sprained neck later.
There was a gap in your treatment.
Insurance perspective:  If you were truly injured, you would be treated for it regularly. If there are any gaps in your treatment it means that you stopped because your injury resolved and the need for more treatment later must be the result of something else.
Reality:  Doctor's availability, transportation, work obligations, or the lack of insurance can result in a gap in treatment. Sometimes injuries seem to have healed, but the symptoms return after the patients start to resume their normal lifestyles.
There was a delay in treatment.
Insurance perspective:  If you experience a delay in symptoms or treatment, those injuries must have been caused by something other than the motor vehicle accident.
Reality:  After an accident, there is typically shock and adrenaline that can overshadow injuries. It can take time for some injuries to be felt. More severe injuries can mask less severe injuries.  Some injuries progress over an extended period of time. Just because an injury isn't instantly reported doesn't mean the later symptoms are unrelated.
There was a subsequent injury.
Insurance perspective:  If you need more treatment, it is because something new happened.
Reality:  Your injury can be made worse by something that happens later. A past injury can also make you vulnerable to a future injury.  If your motor vehicle injury has contributed to a later injury, the PIP insurer may still be responsible for the additional care you need.
You should have already recovered.
Insurance perspective:  Injuries heal within defined periods of time.  You should be done treating.
Reality:  There is no way to determine when an injury will fully heal. All people are different and injuries range in severity and recovery time. Some people may fully recover from their injuries while other people may never fully recover.
6. Do I have to go to the Independent Medical Exam (IME)?
Insurance companies cannot force you to go to the exam. However, if you refuse to go, they will cut off your medical treatment. If you decide to attend the IME, they will still probably cut off your medical treatment and wage loss benefits. By going to the IME you will be in a better position to force them to pay for your accident-related medical treatment and wage loss with the help of a lawyer.  
The decision to attend the IME is best made with the advice of an attorney. Experienced personal injury lawyers are usually able to help most people get the medical treatment they need.  Keep in mind that someone can go with you to the IME, but only as an observer. This person may take notes, but should not say anything during the exam.
7. What are the effects of an Independent Medical Exam (IME) on my treatment from a car accident?
The primary effect of the IME is that the insurance company will more than likely refuse to pay for any additional medical treatment.
Don't let the IME stop you from getting the treatment you need.
Talk with one of our attorneys about your options. We'll answer your questions free of charge.
Your health and wellness should not be compromised by the cost-saving decisions of the insurance company.
8. What do I need to know about the Independent Medical Exam (IME) doctor?
They're hired by the insurance company.
Insurance companies typically hire doctors who will dispute your need for future medical care, look for information to discredit your claim, say that your injuries are unrelated to the accident and write a report to favor the insurance company.
The IME doctor is not your doctor.
Do not expect neutrality. The insurance company is not hiring a doctor to help you get better. The vast majority of the time, IME reports will state that the patient doesn't need additional treatment, even if the patient has not yet fully recovered.
9. How do I prepare for the Independent Medical Exam (IME)?
Preparing yourself for your insurance medical exam can help you get the treatment you need and deserve. Here are some general guidelines to help you prepare for your insurance medical exam. But there might be exceptions in some cases. It's best to talk to an attorney to help you get ready for the IME. 
Don't say more than you have to.
Listen carefully to what the doctor is asking you. If the doctor's question is not clear, tell the doctor you don't understand the question. Once you understand the question, keep the answer short. You want to fully answer the questions, but with as few words as possible. 
Don't say anything you don't know to be true.
Of course, the worst thing anyone can do is lie, but guessing can be just as bad. It's okay to tell the doctor that you don't know or aren't sure of the answer to a question. If you can provide an approximate answer, that's fine. But don't guess or make something up. If you guess wrong, the insurance company will treat it as a lie.
Keep your answers short.
It's important to give accurate and complete answers, but keep it brief.  If you are required to describe a situation, a sentence or two is enough. We are taught to be thorough with our medical providers so that they will be better able to treat and heal us.  However, IMEs are different. The more information you give the IME doctor, the better opportunity the insurance company will have something to use against you.
If the doctor doesn't ask you a question that you think is important, that's the doctor's problem, not yours. Remember the rule: don't volunteer information.
If they don't ask, don't tell.
You may feel the urge to tell the doctor why you need more treatment or how your injury is directly related to the collision. However, this is not the time or the place to advocate for yourself. You have two simple jobs to do at the IME:
Let doctor examine you.

Answer the doctor's questions.

Be consistent and confident.
Maintaining your credibility is important. If you answer a question that is not consistent with your medical records, the doctor will highlight that in the report. The insurance company will say that you were not being truthful and you should not be believed. So, what's the rule here? Don't guess!
Provided you're asked, tell the doctor about similar injuries or health conditions you have had in the past — even if you made a full recovery.
If you tell the doctor something that doesn't match your current or past medical records, the insurance company will accuse you of being dishonest.
10. What will it cost me to talk to an attorney about the Independent Medical Exam (IME)?
We help 100's of people a year who are not our clients prepare for their IME free of charge. Give us a call, we're happy to help you.
Even if you don't want to hire an attorney, it's a good idea to get a free consultation.
We'll help you determine whether you have a case and if you need an attorney. It doesn't make sense to hire a lawyer if you don't need one.
NO CHARGE CONSULTATION
Contact us today and together we can figure
out how we can be of service to you.